How to Update Cinema HD v2 on Firestick? (3 Proven Methods)
Streaming Movies and Tv shows get better with Cinema HD. Many people have found that updating their Cinema HD v2 on Firestick can be a great way to improve the performance and user experience. As the Cinema HD APK is not available on Play Store, it doesn't update automatically. It is crucial that you know how to update Cinema HD on FireStick for enjoying it.
Updating Cinema HD v2 helps improve the security of your device, as well as the stability of your connection. Not only it will run more smoothly, but you'll also have access to new features and bug fixes that can make using your Firestick even more enjoyable. Here you'll get the benefits of updating the app along with the proven methods to do so. Let's begin.  
Benefits of updating Cinema HD on FireStick
If you're a fan of streaming movies and TV shows, then the Cinema HD app provides users with access to a huge library of content, all for free. While the app is great, there are some benefits to updating it on your Firestick. Here's a look at some of the advantages: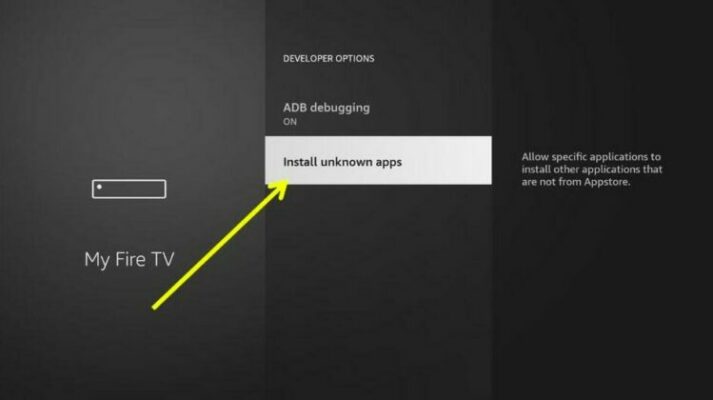 Newer versions of Cinema HD include bug fixes and performance improvements. This can help make your streaming experience smoother and more enjoyable.

You'll have access to the latest features and functions added to the app. For example, recent updates have added support for external subtitles and better integration with Real-Debrid.

Updating also ensures that you have the most recent version of the app's library. This can be important if you're looking for specific content that may have been added since you last updated.
Overall, updating Cinema HD on your Firestick is a good idea if you want to enjoy the best possible streaming experience. Also, the process is quick and easy, so there's really no reason not to do it.
Proven Methods for Updating Cinema HD v2 on Firestick
The methods for how to update Cinema HD on Firestick are multiple and each of them works for different users due to some technical reasons. We recommend you apply all the methods sequentially till you find the one working for you. 
Method 1: Launch Cinema HD APK and Update
Most users don't allow Unknown Sources and ask how to update cinema HD on firestick? You should allow this setting using the developer option. Here's how: 
First, start your Firestick device and reach the

Settings

Then, select

My Fire TV

from there

Now, visit

Developer Options

and you'll see

Install Unknown Apps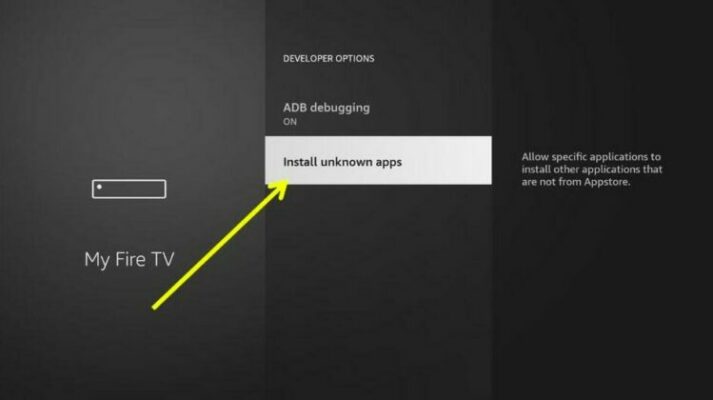 Finally, choose Cinema HD and turn it ON.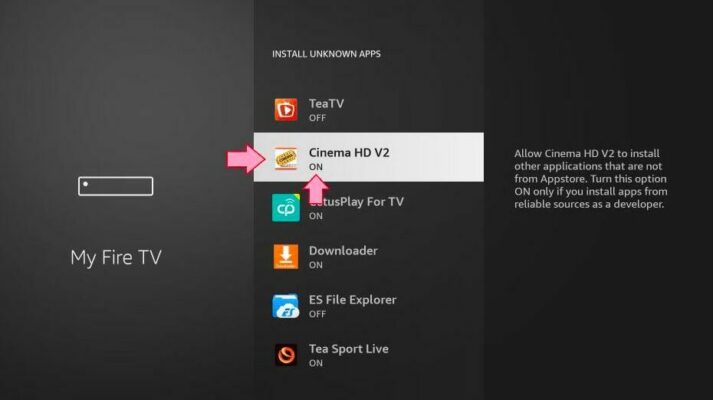 After you allow unknown sources, you must restart your device then launch the Cinema HD APK and follow these:
You'll get a dialog box for updating the Cinema HD APK to the most recent update available. Select

Install

Now wait a few minutes till the Cinema APK downloads on your FireStick

Then, make sure to select

Install

again it'll be installed in a matter of seconds

Finally, once you see

App Installed

, select

Done

or

Open

accordingly.
You may also like to read-Best 4 Motherboard for Ryzen 5 3600x
Method 2: Update Cinema HD APK In-App
The next method is for users who didn't get the Update option while launching the Cinema APK on FireStick. Follow these steps:
1. Start by launching Cinema HD and click on the menu (3 lines in the left corner)

2. Then, scroll down a bit and choose New Update available!!

3. Once the NEW VERSION appears on the screen, click INSTALL and complete on-screen directions.

Now your concern about how to check for update for Cinema HD on firestick? should be resolved and hopefully, the Cinema HD v2 app is updated.
Method 3: Install Latest Cinema APK on Your FireStick
In case the above two methods are not sufficient for you, this is the most effective method for how to update Cinema HD app on firestick. You'll need to download the recent APK for Cinema HD and manually install it on your Firestick. Here's how:
1. After allowing Unknown Sources for your FireStick, visit Search / Find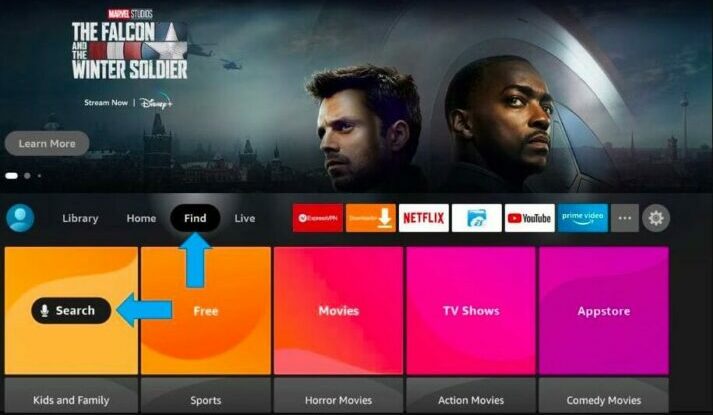 2. Type Downloader and search it 
3. Install the Downloader and launch it 
4. Now, type the URL as https://crumbles.co/dll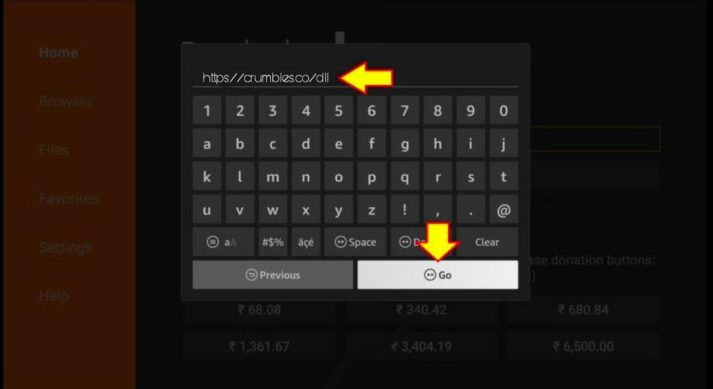 5. Click GO and start downloading the updated Cinema APK
6. Once downloaded, click Install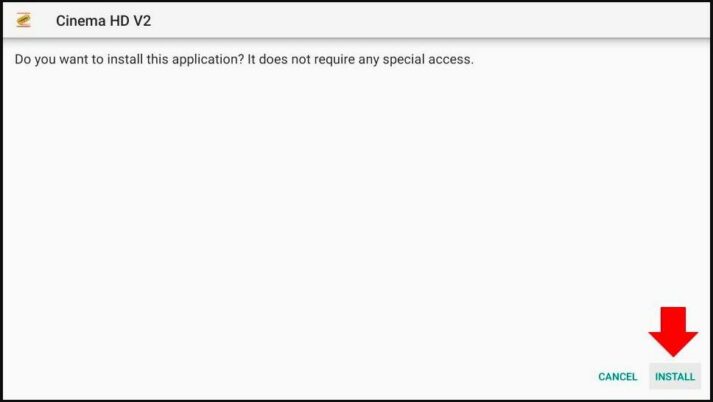 7. After installation, click on Done and you'll reach the Downloader
8. Just visit the home screen and launch your Cinema APK
Now you are ready to enjoy Cinema HD's latest features, seamless interaction, and thousands of movies and shows without any bugs.
Wrapping Up
The most asked question is how to update cinema HD on firestick. is finally answered. Updating Cinema HD APK to its latest version allows users to access newly released movies and TV shows. It provides enhanced security, bug fixes, and improved interaction. 
We believe, this blog helped you update your Cinema HD v2 firestick with minimum effort. Furthermore, make sure to check our other posts for any queries and keep coming back for future updates on Cinema HD.
Frequently Asked Questions (FAQs)
Q1. Why Cinema HD app is not working on my FireStick?
You won't find Cinema HD on the Play Store or App Store indicating that it's a third-party app. Hence if the app is not working on your firestick you need to check the internet connection, confirm any ongoing issue on the Cinema Apk Twitter handle and lastly reinstall the APK after allowing unknown sources.
Q2. How to check for updates for Cinema HD on FireStick?
If you want to check the recent update for Cinema HD APK on your FireStick, the following steps will help:
Open Cinema HD on your FireStick

Click on

Menu

and scroll down

Select

New Update available !!
Now any available update will appear on the screen and you can download/install it on your FireStick.
Q3. Does Cinema HD APK for FireStick Get regular updates?
No! the Cinema HD Apk doesn't get regular updates but you get periodical updates for bug fixes and updated features. These are crucial for improving the app performance and providing better security.
Q4. Are there any other apps like the Cinema app for Firestick?
Yes, the Best alternatives to the Cinema HD app are Kodi, Popcorn Time, etc. You can easily use these apps on your Firestick device.